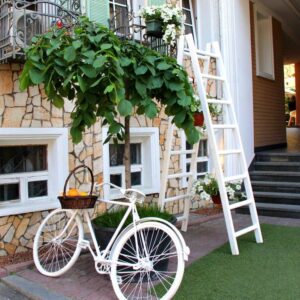 Spring is finally here, bringing longer days, lighter evenings and blossoming flowers. With Summer on the horizon, it's time to think about getting your garden to look its best! Prestige Lawns have plenty of experience when it comes to Spring garden revivals, so don't hesitate in getting in touch!
Reflect Your Lifestyle
Everyone wants a pristine garden all year round, but without a full time landscaper it becomes a struggle to keep on top of it around working hours. If you have a busy schedule and don't get much spare time to allocate to maintenance, why not install some artificial grass? Achieve a perfectly green aesthetic in every season without having to drag the mower out of the shed every weekend. Not only that, but you'll find yourself making far more use of your garden in wetter conditions once you've eliminated the mud from your lawn. If you enjoy gardening but find it hard to balance it with a busy lifestyle, why not focus your attention on potted plants and hanging baskets. With artificial grass, you have more time to perfect the finer details.
Get Creative
Whether your garden is big or small, there are many ways to create the idyllic Spring or Summer setting to make the most of the glorious British sunshine and balmy evening air. Hang string lights, add planters with wall climbers or think about raised areas such as decking and paving to create depth and interest. Your garden will soon become your favourite space, whether it be a relaxed evening reading a book or a buzzing barbecue venue.
Create a Focal Point
Consider adding something to your garden that takes the limelight. In a large space, you can go bold with your idea with a central water fountain or pond, and if you have a smaller space a simple rockery and water feature would create interest without taking up too much room. The addition of a fire pit will allow you and guests to chat long into the night, making the most of your evenings. Arrange a seating area around it so that you can enjoy the crackling sound of logs and flickering flames.
Al Fresco Dining
What better way to enjoy your Spring garden that with an outdoor eating area. Be sure to add a table and chairs near to your home so that you can easily transport food. To make this space more of a feature, consider building a pergola above head to create an intimate space that could be adorned with lights or lanterns. For extra fun, why not add an outdoor cooking area such as a pizza oven or a smoker which will really impress your guests!
Improve your Spring garden now to ensure you make the most of the British Summer months. For more advice from Prestige Lawns, or to book an artificial grass installation, please get in touch today by calling 01908 542422. We look forward to hearing from you!