Having a pet is one of great pleasures in life. We love our dogs and all the great things that come with them, but muddy paw prints are not usually one of them.
Well, have you considered the installation of an artificial grass in your garden?
Not only is artificial grass dog friendly, but it also looks extremely natural and realistic all year round. Your four legged friends can freely play around and roam the garden regardless of the weather, giving you peace of mind knowing that no muddy paws will be coming back into the house.
Artificial grass has come a long way and, these days, it is often impossible to tell whether a lawn is artificial or not. It feels and looks natural and requires minimal maintenance! Even if pets choose it for doing their business, it would not discolour or die like natural grass. Our special Aqua-flow sub-base ensures full drainage into the ground and any faeces can be easily removed without any damage to the artificial grass fibres. All you need to do is hose the lawn down and, every once in a while, give it a bit of spruce up with an artificial grass cleaner. This would disinfect and freshen it up your lawn.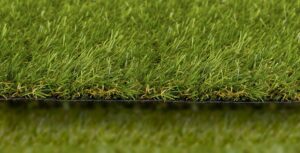 The installation technique is another important factor to consider when installing an artificial lawn, especially if you have children and/or pets. Many installers use timber frames and nails. Unfortunately, timber rots in the ground and after some period of time rusty nails might start to appear. This could pose a serious hazard for you, your children and your four-legged friends. At Prestige Lawns, we do not use timber or nails as we don't deem them safe or durable. We glue the grass around the periphery of the lawn. This way you can be sure that your garden is perfectly safe for you and all your loved ones.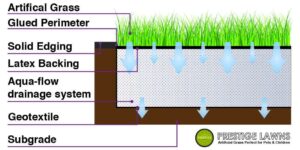 So, does the prospect of low maintenance beautiful green lawn all year round and no muddy paws appeal to you? Give us a call and book your free/no obligation quote today! 01908 542422