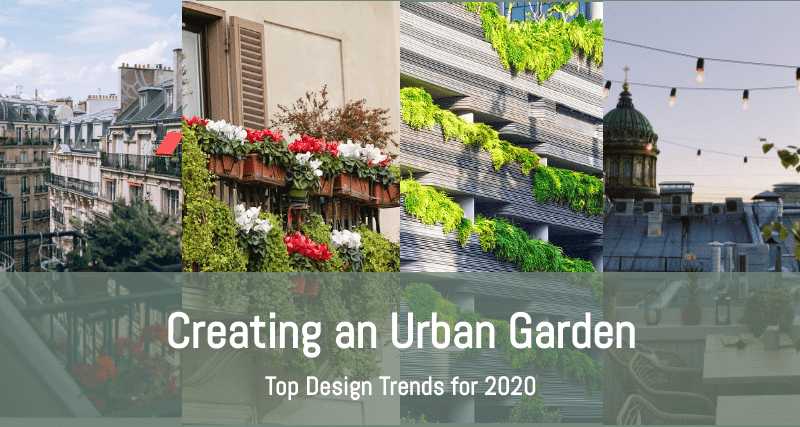 Many people in the UK's most popular towns and cities live in flats or shared houses without access to their own garden. For those renting houses that do have a garden, they are often subjected to an outdoor space that hasn't been properly maintained or that they do not have creative control over. In the best-case scenario, people have access to a public garden or balcony where they can enjoy the natural outdoors. In recent years, homes in the UK have been getting smaller. This means gardens are also getting smaller too.

However, there are many ways that you can create your dream garden with the limited space that urban homes provide. Prestige Lawns have looked at the urban garden design trends that we can expect to see more of in 2020.
Choosing Plants for Sunny Spaces
Beds of flowers are a great way to brighten up your urban garden with some colour. The majority of flowers will thrive when grown on a sunny balcony. They look especially pretty on a balcony in a hanging basket or in flowers beds. To give you some inspiration, here are just a few types of flowers that you could choose.
Geranium
Hydrangea
Chrysanthemum
Begonia
Pansy
Hydrangea
Petunia
Jasmine
Bulbs such as daffodils, tulips & hyacinths
Marigold
Ivy geranium
Heatherurban
As well as flowers, you might also want some greenery in your urban garden which you can create either with potted plants or even small fruit trees. Luckily with sunny spaces, the sky is pretty much the limit, and most plants will thrive in this environment. A few plants that you can try to add some greenery to your urban garden include:
Ferns
Cacti and succulents
Herbs (eg. basil, dill, fennel, parsley & chive
Fruits such as strawberries and tomatoes
Dwarf fruit trees (eg. apple, apricot & cherry)
Choosing Plants for Shaded Spaces
Flowers for Shaded Spaces
Just because your urban garden is on the shady side, doesn't mean you can't enjoy a range of different flowers in your outdoor space. After all, a garden isn't complete without an array of flowers! Here are a few different species of flower that thrive in shady spaces and will add some colour to your garden and hopefully attract some wildlife too! 
Perennials that like shade (eg. viola, forget-me-not & geraniums)
Begonias
Fuchsias
Coleus
Torenia
Coral Bells
Oxalis
Foxgloves
Pansies
A failsafe way to add some greenery to your shaded garden is to take your houseplants outdoors. Most houseplants grow happily in the shade and don't require too much maintenance.
Herbs (eg. mint, dill, parsley, sorell, chive & coriander)
Houseplants (eg. philodendrons & ferns)
Hostas
Ivy
Cacti & succulents
Urban Garden Design Ideas
With a large urban garden whether that's on a balcony or indoors, you have the space to work outwards which you can do with large flowerbeds and even garden furniture whether that's an outdoor dining area or storage. To personalise the space, you could try adding a unique rug or a string of fairy lights to make the space yours. Wicker chairs and comfy beanbags are also a great way to turn your urban garden into a social space where you can host barbeques in the summer and enjoy a drink in the evening.
Small Spaces and Juliet Balconies
With limited space, you're going to want to work upwards instead of outwards when designing your urban garden. Working upwards will also open up the space and create the illusion of a larger area. Work upwards with hanging baskets for the walls and overhanging baskets for the edge of your balcony. Climbing plants will also help you to accentuate the height of your balcony, taking focus off the width. Wall shelves can be very effective and great for storage. Paint the shelves a bright colour to add some personality to your urban garden. Customise the space with decorated plant pots, candles and fairy lights.