Is It Time To Transform Your Adventure Golf Course?
Crazy / Mini Golf course re-surfacing
Are you looking to resurface your crazy golf attraction? Prestige Lawns can help you revamp your adventure golf course, increasing revenue and adding value to your venue. With over a decade's experience installing artificial grass, our expertise and eye for detail, combined with the highest quality materials, will assure you that your makeover is in safe hands. Whether you are a large amusement park or a small independent venue, our surveyor will visit anywhere in the UK to discuss your requirements, then our in-house installation teams will deliver the perfect renovation solution.
Why You Need Artificial Grass For Your Adventure Golf Course
Prestige Lawns Synthetic grass will outperform any traditional mini golf carpet. Our industry-leading artificial grass has been designed and manufactured using the best quality Polyethylene monofilament curled yarn on the market. As a result, it is suitable for indoor and outdoor use. Furthermore, it is a non-infill product, thus reducing maintenance and increasing durability.
A versatile Solution for Crazy Golf
Whatever kind of attraction you have, Adventure Golf, Crazy Golf, or Mini Golf, whether it be indoors, outdoors or even on a rooftop, we will have the product and style to suit any theme. So if you're looking for a Dinosaur Kingdom, Pirate Adventure, Underwater World or a neon experience, we can always match you to the correct product.

Please look at our Play Grass for the ultimate putting surface or the Crazy Colours for that complementary fringe grass.
The artificial turf we use for Adventure Golf courses is long-lasting and durable. Once installed, you can expect to get many years out of a new mini golf course, that is, if the artificial turf is installed correctly by experts. Our synthetic turf was made for the sport of golf. Its leisurely pace ensures your freshly installed grass is durable when subject to high foot traffic.
Intense UV rays are not a problem for our artificial grass. Our synthetic turf is UV stabilised during manufacturing to prevent colours from fading, meaning your golf course will retain its bright colour. But, would you still like some convincing? At Prestige Lawns, all our grass has a 10-year warranty against fading.
At Prestige Lawns, all our employees are CRB checked for your peace of mind. We provide all risk assessments & method statements for the works to be carried out. In addition, we take care of all waste disposal and site clearance. Choosing a suitable contractor is a big decision, but we can make it easy!
Before You Buy Artificial Grass For Your Adventure Golf Course
Revamping your adventure golf course is a massive decision. However, here are a few things that should be on your mind before purchasing.
At Prestige Lawns, we offer free samples for all our artificial turf options. Please feel free to request a free sample today; our expert surveyor will bring them to you. At the same time, they provide a comprehensive project quotation.
To further help with your decision, you are welcome to visit our showroom, where you can view our entire range on display. We understand that it can be difficult to imagine what a whole adventure golf course would look like from a small sample, so our gallery is worth a visit.
The initial cost of getting artificial turf installed is a significant investment. The price is determined by the quality of grass you choose and how much of your course you wish to transfer to artificial grass. However, it is essential to remember that artificial grass is a long-term investment. If you compare the low maintenance of artificial turf and longevity over ten years, including the cost of lost revenue from maintenance and refurbishment, artificial turf from Prestige Lawns will work out cheaper over time.
If you are interested in installing artificial grass, you have to consider the aesthetic impact this has on your customers. Not only making your venue stand out from the crowd the satisfaction your customers get from playing on a quality surface will bring in the recommendations. Your customers' word of mouth and outstanding Google reviews make this investment worth every penny.
Adventure Golf Case Studies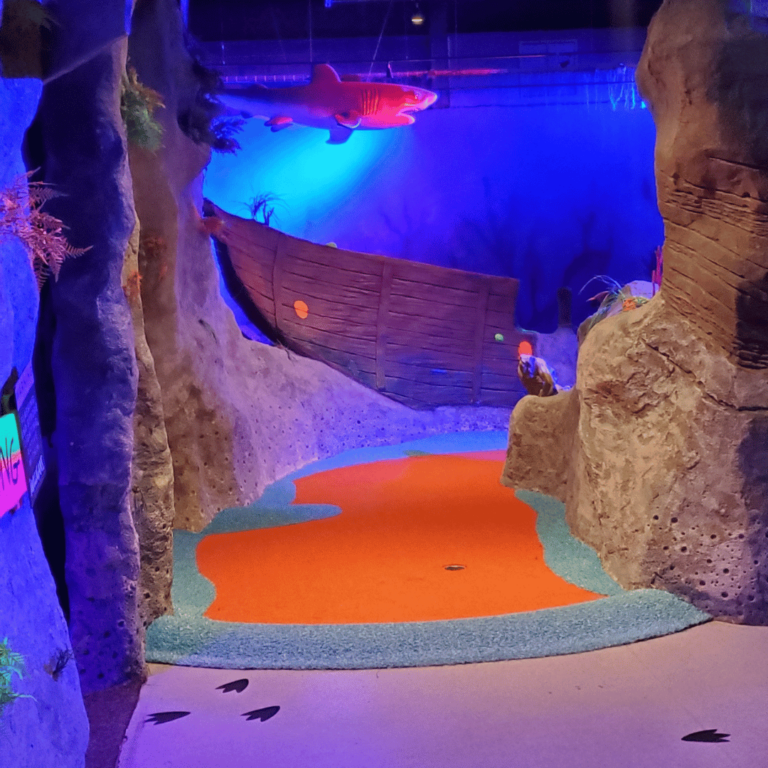 Adventure Golf
Take a look at the makeover we gave Mr Mulligans Cheltenham.
View Blog Post